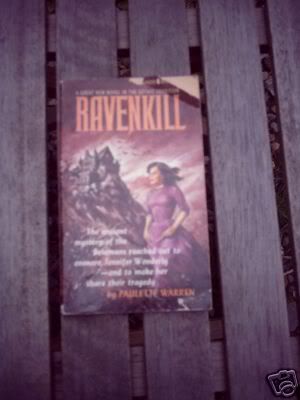 This was an all-around awesome novel. Five stars.
Found it last Sunday at the used bookstore. Paulette Warren is the pseudonym of Paul W. Fairman, btw. Photo obtained via Ebay; unfortunately it's a bit fuzzy. There ARE bats fluttering around the top of the old spooky mansion. ;-P
The story centers on Jennifer Wonderly, a 25-year-old woman whose beloved mother has recently died. Turns out Jen hails from Iowa (my home state), and is working as a librarian. That fact could garner a few snickers, but we Iowa folk are not timid clodhoppers -- as Jennifer's vim and feist throughout the novel proves. Jennifer is residing with her plump, adoring and protective Aunt Madge when a letter arrives from John Belaman.
John Belaman is a 45-year-old "retired" world-famous concert pianist. He has also known personal tragedy and the death of loved ones. He and his equally talented sister Margo were, as children (and obviously before Jen's time), briefly unofficially adopted by Jennifer's adventuresome Uncle David (now deceased or simply vanished) after their soon-to-die father, Hugo Belaman, entrusted little John and Margo into David's care. Wealthy and powerful Belamans out east objected and claimed familial rights; John and Margo were taken from David and sent from Iowa to live at Ravenkill, the Belaman family estate in Maine.
John went on to become a wealthy and famous concert pianist. Margo also found success and fame and married Frank; the newlyweds were soon tragically killed in a freak accident.
John Belaman now sends his condolences to Jennifer from Ravenkill (he later personally recalls to her the letters and photographs he'd exchanged over the years with Jen's mother. Jen is surprised to learn this; she's also -- later -- surprised to discover it's true that she and Margo shared an uncanny resemblance). John is aware that Jennifer is a librarian. Ravenkill boasts a huge (and highly disordered) library; would she be willing to travel to Maine and Ravenkill, and put the library into professional order for a fee?
Jennifer agrees; and what and who she encounters at Ravenkill...my hunches and speculations proved almost entirely
wrong.
"Paulette Warren" kept me guessing. The atmosphere, characterizations, pacing are excellent;
the timing
is impeccable. And at 151 pages it's the perfect length.
The story is filled with bitterness, love, betrayal, wit, lust, vengeance, a ghostly figure which sings lullaby's as it flits about the grounds, desperation, cruelty, a ghostly face in a mirror, etc. The ending was nothing I expected (a definite plus).
It also uses (new to me) two 1st-person narratives: Jennifer tells some of the chapters from her personal perspective, Gaspar tells the remainder from his. As mentioned in a recent post this is the first time I've encountered this storytelling technique, but then I'm generally not a fiction fan (the Gothic genre is a definite exception).
The author wrote a sequel to it:
Ghost at Ravenkill Manor
[1969]. I've ordered it and it's due to arrive next week. I can easily see how a sequel is possible to the original story, and hope it's every bit as good.
Cast of characters as I visualized them:
Jennifer Wonderly: As she appears on the cover; beautiful bold brunette "American beauty" of the time [age 25]
Aunt Madge: Bea Arthur [age 53]
John Belaman: Gary Oldman [age 45]
Garth McCroy: Joel Crothers [age 27]
Agatha Pate: Sigourney Weaver [age 41]
Veronica: Couldn't visualize.
Mr. Bannister: Couldn't visualize.