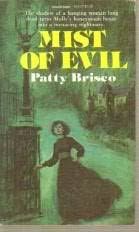 I visualized this charming and
very
unique novel set in 1968. What it lacks in a genuine (imo)
gothic
tone it certainly makes up for in charm. It truly is one of a kind, as writing style and characterization are concerned.
Molly's father had recently passed away after a lingering illness, during which she took care of him. After his passing, Molly's Aunt Bunnie suggests Molly take a sea cruise and accompany her. They head off to Puerto Rico. Molly dreams of a cruise-ship romance, but being a realistic sort of girl quietly acknowledges the slim likelihood of that happening.
And then one evening, who is sharing the dinner table but the handsome and famous Carter Faraday? He's a famous horror and sci-fi actor and many years Molly's senior, recently retired from acting. Molly's had a tremendous crush on Mr. Faraday since 8 years prior, when she was 14 and instantly smitten with him on the silver screen.
They fall in love. They marry.
No sooner have they returned to Carter's Hollywood mansion "Trollhaugen" (what a name, huh?) than Molly's made starkly aware of just how much Carter loved his former (deceased) wife, Nedra. It seems someone doesn't want Carter to forget Nedra, nor the terrible manner in which she died. Molly swiftly and unhappily realizes just how tormented and haunted a man Carter is.
And then it becomes abundantly clear that whoever wishes to torment Carter also seeks to torment Molly...and kill her.
She's swept up into this real-life nightmare while also simultaneously swept up into Carter's Hollywood lifestyle and friends. The Wolfman, Snake-Woman, Dracula, Mist-Woman all come into Molly's life as the real persons behind the costumes and scripts.
And one of them is bound and determined to destroy Carter and Molly's marriage. Or is Carter himself mentally unbalanced and doing these horrible things?
I give it 3 stars on a scale of 1 - 5 for "gothicness." However, it gets 5 stars for being a fun and very unique read. This writer has a style all her own: It's kitschy in some places, a touch of corny in others, and often it's too highly detailed (likely would have been better written in the 3rd person); but it's a "must read" and highly engaging/entertaining.
The cast of characters as I visualized them:
Molly Faraday: Sharon Tate (age 22)
Carter Faraday: Pierce Brosnan (age 41)
Aunt Bunnie: Emmaline Henry (age 45)
Raul del Rio: Raul Julia (age 43)
Alf Martin: Jack Nicholson (age 50)
Emma Boles: Shirley MacLaine (age 47)
Clive Martel: Orlando Bloom (age 33)
Monica Vili: Lara Parker (age 35)
Roger St. James: Christopher Lee (age 49)
Sandra Hooper: Susan Sarandon: (age 37)
Alexander: David Davis (age 45)