10 Stars on a scale of 1 - 5! A *fabulous* story. It's a lovely and entertaining book, both inside and out: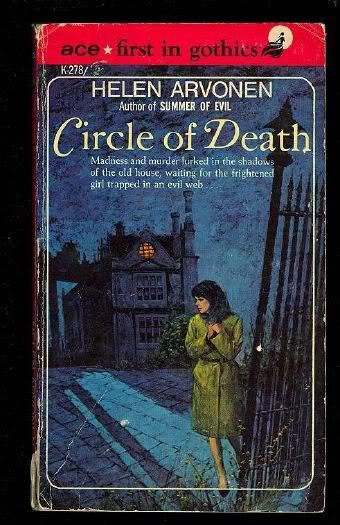 One of the most rewarding Gothics I've yet read, and which I'll definitely read again in the future. It grabbed me from the start and held on. It never flags nor veers off; it clips along at a high-speed pace. One of the few novels I could *happily* tackle in one sitting; that's incredibly rare. My only criticism? It ended too soon! ;-)
It is not a typical Gothic by any stretch. The story opens in Treston, Ontario, Canada. Linda is alone in Meredith House, the ancestral family home. She is packing a loaded pistol, waiting for the murderer she knows is coming for her tonight: Someone, a friend or acquaintance, who has cold-bloodedly murdered three times already.
But why would anyone wish to kill Linda next?
The story is told in the 1st person by Linda Meredith: A thoughtful, conscientious, practical and immensely likeable heroine. It is a highly sociable story which centers first on Linda's family: Her well-to-do yet humble and humanitarian father, Arthur Meredith, who is already middle-aged when he falls in love with and marries the much younger buxom and gorgeous Lisa "Bitsy" Baker, who works as a hash-slinger at Miller's Dinner Date. Linda is their only child and "every inch a Meredith" -- much to Bitsy's chagrin.
Bitsy is a good-time girl who is restless with boring little Treston. She's always dreamed of bright lights/big city, is splashy and vivacious, and after years of pleading Arthur agrees to move the family to Toronto. Linda initially hates her selfish, vain mother [who insists her only child call her "Bitsy" instead of "mother"] for taking Linda away from her circle of friends: Joyce, Ian, Nell, Jere. Over the years all friends stay in contact via letters. Linda's highly conflicted relationship with Bitsy -- who alternately sulks and parties, is always self-centered and spoiled by the ever-patient and loving Arthur -- not to mention Linda's plainness and practicality sharply contrasting with her mother's intense vanity and frivolousness -- is a poignant highlight.
Linda's beloved father, Arthur, dies. After 14 years of living in Toronto and Bitsy suddenly thrust into the scandal sheets, Linda decides enough's enough; they are returning to Treston.
Linda is overjoyed to be home. Nell, Jere, Ian and Joyce all welcome Linda and Bitsy back with open hearts and arms. The friends dine, swim, chat, drink together. All the original circle [and a couple of extended friends besides] share a homespun and gorgeous Christmas with Linda and Bitsy.
Despite the warmth and gregariousness there are to-be-expected ripples and undercurrents of danger and trouble: Inklings of jealousy, old simmering resentments, intolerance and suspicion.
Linda's world soon comes crashing down. Three people, two of whom are beloved of her, are inexplicably strangled. All three victims have a handful of things in common...which Linda does *not* share with them.
I thought I knew who the culprit was. I was wrong.
A nice aspect of the story is the personal growth of Linda in it. She comes to realize just what everyone in her circle means to her, particularly Bitsy; at story's end she's come to terms with their differences and embraces them. It's a coming-of-age story in that sense.
The cover scan was obtained from FantasticFiction.uk. I love the cover as much as the story; it *perfectly* captures the novel's essence. The girl is practically dressed in a coat, not some flowing filmy nightgown; that's in keeping with Linda's character. The scan is a bit dark and brash; in my copy, the lit circular window is evenly mellow orange with tiny flecks of yellow.
Trixie gives the story 0 Paws for no mention of a cat in any regard.
The cast of characters as I visualized them:
Linda Meredith: Helen Hunt [grown/age 24]
Arthur Meredith: William Schallert.
Lisa "Bitsy Baker" Meredith: Along the lines of Betty Grable.
The others: As described.