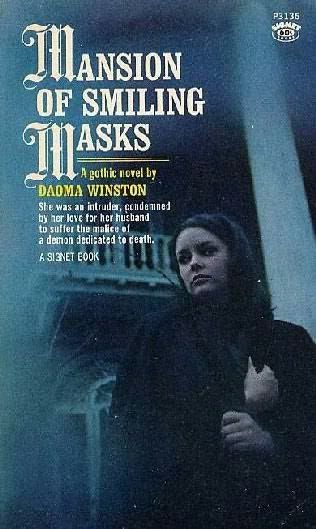 I think this model might be the same as the one who posed for the bor-ing cover of "Goddess of Terror" which I reviewed below [no scan]. If not, they're practically twins. In this scan [obtained from Fantasticfiction.com], she reminds me of Alexandra Moltke. If that name doesn't ring a doomsday bell...! She played Victoria Winters on "Dark Shadows" [1966-71].
I give it 1 Star. Trixie gives it 0 Paws. I don't know if Ms. Winston was trying to appeal to the Psychedelic LSD crowd with this novel or what. The opening chapter is not easy to visualize [except for the heroine's LSD-like description of cloud imagery during the airplane ride], she wonders why she married a virtual stranger [I *really* dislike that ploy], the first chapter is also long and draggy, there are too many peripheral characters. Right: I didn't like it.
This novel is a serious disappointment for the simple fact that otherwise I've enjoyed Ms. Winston's storytelling. I'm just about finished with another novel of hers, which will get 5 Stars. Her "Carnaby Curse" [reviewed months ago] was another 5 Star story imo. Not sure what happened here. If it'd been the 1st novel of hers I'd read, I'd be chary of anything else penned by Ms. Winston. But she is a *good* novelist otherwise, aside from this dud.