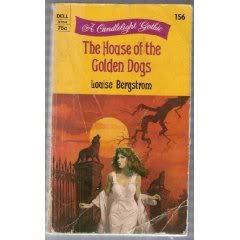 Found this at the local used bookstore. It was published in 1971. Cover scan is via a seller on Amazon.com.
It's the 2nd Candlelight Gothic I've found; the other is "Carlotta's Castle" by Jane McCarthy; I'm working on turning up a scan on it. I've yet another Candlelight volume, but it is a Romance and is buried away somewhere in one of my metal fireproof containers.
Anyway, I notice that Candlelight had at least 3 subclassifications: Romance, Intrigue and Gothic. All 3 varieties are stocked in the Gothic section of the local store.
I searched the net for a bit of info on this series of Dell books. They're slim [average 160 pages - yay!], have gorgeous art work, are medium-print books; easy on the eye. Am hoping to find more of them locally. Best as I can ascertain, they were published between the late '60s and early to mid-70s.
On a different note, it's yet another sunny winter day. I *hate* sunny winters; 2 of the past 3 have been day after day of sunshine. My sister would strangle me for saying that, but I'm still accustomed to gloom, cloudy, rain and/or chance of snow; we used to have that HERE from mid-December through February. This sunshine is actually making me grouchy, so I'm working today. >;-) Would rather pound the keyboard in the gloom of my home office and pretend it's cloudy out there...maybe I'm part vampire?