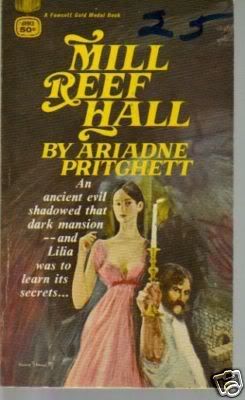 A definite 5 stars out of 5. Excellent story all around. :-) The large scan was obtained via Ebay [camera icon in corner]. In my copy, the background color is more bluish, like this one [obtained from Fantasticfiction.co.uk]: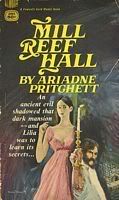 The story is set in England, in the year 1812; England and the United States are at war. None of this much concerns Lilia Franklin, at least for now. Lilia is 21 years old, of a poor but loving home, both parents are now deceased and she's been a nurse for 3 years. She's hired on from London to far-away Mill Reef Hall, on the northeast coast of England, to care for the dying Lord Charles Reef.
Lilia arrives via coach on a cold and stormy winter's day. En route to MRH, she and her escort are startled by the sudden and inexplicable appearance of cowled men emerging from the surrounding forest. A catastrophe with a badly startled horse is fortunately averted - but only barely.
At MRH, Lilia encounters the surly and hateful Seaton Reef, brother of Lord Charles. Seaton is partially crippled from a youthful misadventure; he's bitter and twisted. Also residing at MRH is Edgar Seaton, nephew of Lord Charles and Seaton. Edgar immediately takes to Lilia, and begins spinning his own self-serving designs on her. Lilia immediately realizes both men are a danger to her, but later warms up to Edgar.
Lilia proves herself a loyal and compassionate nurse to the terribly ailing Charles, who takes a fancy to her. Initially he's gruff and demanding, but soon takes her to heart. A cordial and genuine friendship blooms between patient and nurse.
Meanwhile, Seaton continues to view Lilia as a threat. He stands to wholly inherit MRH upon Charles' passing; what if Charles foolishly decides to wed Lilia and will everything to her? Edgar shares this concern, but makes different plans in that eventuality.
Mixed in with the bits of national political intrigue (War of 1812) is the [allegedly] Canadian tenant named Mr. Thomas Burton, who is renting a cottage on the Reef estate, in the nearby cove. Edgar and Lilia enter the cottage one afternoon and while there Edgar notices nautical equipment and ocean maps -- including 3 strange names thereon; the names seem foreign. Who exactly is Mr. Burton, and why does he possess a map with foreign-sounding names on them which *don't* sound like names for ocean currents? And what might he want of Lord Reef, who's befriended him?
Lilia, meanwhile, sees lights moving and bobbing at night (bitterly cold and snowy nights) near the cove. She sees Seaton, cowled, carrying a candelabra containing black candles. She awakens in terror after dreaming of dancing on her grave; is the dream a death omen?
Added to this is the mystery of a baby girl's grave in the family plot on the estate [which Lilia comes upon and immediately thereafter becomes obssessed with]. And then there's the deceased Lady Amelia Reef's uncanny portrait.
The story culminates in a Black Mass. The descriptives used are unique.
MRH does not end as I'd expected. But that's so much the better! It's an incredibly well-crafted and satisfying story. I particularly enjoy frequent and good descriptives of food/meals or weather; this novel abounded in lovely descriptions of weather-related phenomena.
Trixie gives the story 1 Paw for no mention of cats in any regard. However, she agrees it's a wonderful story for humans, even if cats will be disappointed. ;-P
The cast of characters as I visualized them:
Lilia Franklin: Madeleine Stowe [age 21]
Lord Charles Reef: Michael Caine [age 62]
Seaton Reef: Peter Cushing [age 55]
Edgar Reef: William Katt [age 27]
Thomas Burton: Stephen Collins [age 29]