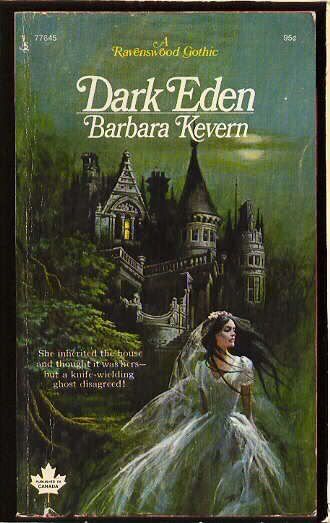 A
jewel
of a story. Definitely 5 stars out of 5! :-)
Scan obtained 1/31/08 via BookIT.com and inserted.
This novel was included in Absinthe's prize box. Thanks for tucking it into that box, Absinthe; it's one of my favorite Gothics yet and I read it in record time. I even stayed up late on a work night to finish it!
Elizabeth Jarrow Gilmore is a young magazine editor from NYC who's just inherited Harmer House near Blackston, Virginia. Elizabeth is originally from the Blackston area; at age 6 she was suddenly orphaned just a mile or two from Harmer House. Mr. Angus Harmer took the frightened girl in, wishing to adopt her; alas, county officials figured the girl needed both father and mother, and little Elizabeth was taken to an orphange. She was soon adopted by the Gilmores.
Elizabeth arrives 20 years later to Harmer House, to reluctantly claim her inheritance. Mr. Harmer had been so kind and loving to her, but this final act of care was too much. She arrives in a rain storm and sits a while in the warmth of her car, trepidaciously regarding the foreboding mansion while recalling bittersweet memories.
Once inside, Elizabeth is greeted by a cold and curt servant named Harold. Edith Harmer, Angus' sister, is the last of the Harmers; she's in her 60s and wheelchair-bound for nearly 25 years. Edith plans to move to Richmond, to a smaller Harmer home, once the legalities are settled. She invites and insists on Elizabeth staying the weekend at Harmer House as her guest rather than taking a room in a nearby hotel. Elizabeth reluctantly agrees...
...and then pandemonium ensues.
The story is the *perfect* blend of supernatural goings-on (automatic writing, spirit possession, ghosts) and human malice motivated suspense. Elizabeth falls prey to a series of terrifying and bewildering experiences; her sanity is questioned. She turns up little clues which could point in either direction of what's really going on.
In the interim she meets and falls for the handsome and debonair Harmer family attorney, Mr. Mark Shorewood. Romance of course ensues. I can easily visualize these two passionately kissing...and then some! ;-)
This novel clicks right along. It's intelligently written and there are perhaps only two "oh COME ON" small moments in it. An overall excellent blend of many elements.
I also greatly enjoyed the wonderful *Americana* of the story: Little Elizabeth and her father riding along country roads in a flat-bed truck; childhood fishing with Mr. Harmer, who loves the little girl like his own; fixing a farm silo; two mentions of a relative in the Midwest.
The cast of characters as I visualized them:
Elizabeth Jarrow Gilmore: Isla Blair
Mr. Jarrow (her father): William Schallert
Angus Harmer: Gregory Peck
Harold: Jonathan Frid
Edith Harmer: Jessica Tandy
Mark Shorewood: Jerry Lacy