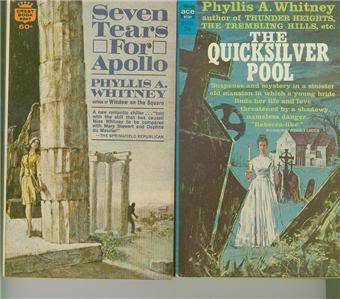 A larger version of this 1955 cover of
The Quicksilver Pool
by Phyllis A. Whitney:
http://tinyurl.com/6h9cat
It's been scanned alongside another. I found the novel yesterday and purchased it solely for the cover art; the story itself runs 310 pages and that's definitely 100 more pages than I care to devote to a novel. ;-) The image was scanned by a French-speaking person trying to sell the items on Ebay. Thank you whoever you are! I didn't count on finding that image on the 'net.
An update about the scanner: I've obtained a used computer (returnable) and will attempt to download the scanner onto it this weekend.
The banner is forthcoming regardless. I'll get an M.O. in the mail to Steve by the weekend.
Meanwhile I've obtained another two dozen Gothics. Have the next 3 to be read picked out, am nearly finished with the current which I'll review soon. Need to obtain another fireproof metal box for my latest in the collection. I'm soooo glad my husband is indulgent in this regard, lol!
;-P