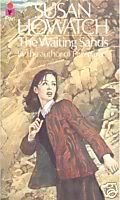 As I think this novel would make a good movie, I must give it 5 stars. :-)
Cover scan obtained via Ebay (note the camera icon in right lower corner).
The initial setting is 1960s England. Rachel and Rohan are life-long platonic friends from childhood. They share a brother-sister type bond. Rachel goes abroad (to continental Europe), meets a female friend named Decima at a school. Both return to England. Rachel hopes to fix Decima up with Rohan, but alas his cousin Charles snatches the beautiful Scottish heiress up before Rohan can blink. Charles and Decima marry 4 months after meeting. Charles is a sociable Englishman of letters, a professor of history and roughly 15 years Decima's senior. He indulges Decima's wish to mainly reside at Roshven -- her father's ancestral estate in the Scottish Highlands, NW of Inverness.
Rachel and Decima lose touch. Rohan frequently visits his cousin Charles at Roshven, but oddly and sadly Decima never invites Rachel to visit and she's too proud to invite herself to accompany Rohan during his visits to Charles.
Two years later Rachel receives an apology and an invitation in the mail from Decima. Her 21st birthday is two weeks away. Decima (I like that name btw) sounds a bit nervous and edgy in the letter; she wants to see Rachel again, yes -- but she also fears she may not live to see her 21st birthday and to that end would like Rachel to come and help safeguard her through the event. If Decima does arrive at her 21st birthday, all of Roshven is hers; if not, Charles inherits it as her next of kin as per Decima's father's Will.
Rachel, curious though hesitant, agrees. She's particularly curious to finally visit Roshven, after all the wonderful tales Rohan's told her about it. When Rachel arrives, she discovers another "couple" is staying at Roshven: The Careys. They are brother and sister, Daniel and Rebecca.
Within 24 hours' time Rachel comes to realize she's unwittingly walked smack-dab into a finely-woven web of deceit, scheming and intrigue. She's become a pawn -- for more than just one person.
It's a very finely crafted story filled with twists and turns. The story is told from the viewpoints and perspectives of each character, alternately -- although always in narrative form; this definitely boosts the story's appeal. The Scottish Highlands, ocean, weather, wild life descriptions are keen; as if you're there.
I especially liked the 3 couples but of different orientations aspect: We have a husband and wife...blood brother and sister...life-long platonic friends who are like siblings but aren't. Rather unique.
The ending was the perfect "wrap up" to the entire story. Excellent overall!
The cast of characters as I visualized them:
Rachel Lord: Elizabeth Berridge (aged 23)
Rohan Quist: As he's described in the book.
Decima Mannering: Uma Thurman (aged 23)
Charles Mannering: Daniel Day-Lewis (aged 36)
Daniel Carey: Ralph Fiennes (aged 27)
Rebecca Carey: She's a nit...who cares? (aged 24)