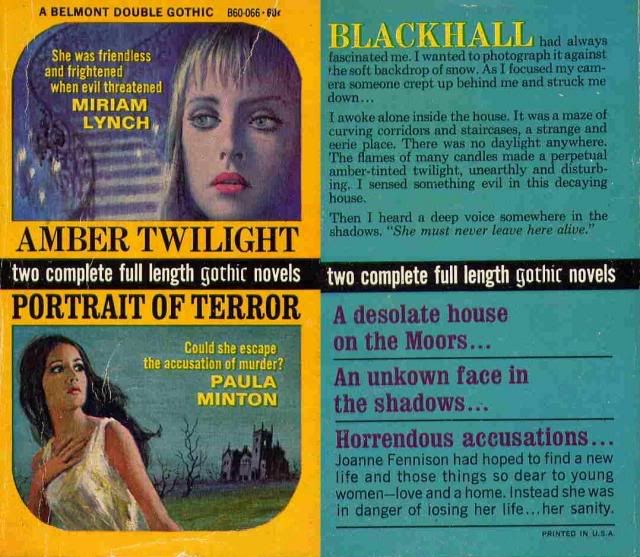 One of the (likely) rare times I'll be reviewing 2 stories in 1 day. Finished "Amber Twilight" by Miriam Lynch just an hour ago; read it within a day. This cover art was found via http://gothicnovellover.com, which Barrymore notified me of Saturday. I've had a previous cover scan [obtained via Fantasticfiction.co.uk], but this one is much sharper.
And as the back cover got cut off via E-Blogger Image, here's the link:
http://gothicnovellover.com/gallery/main.php?g2_itemId=2366
This story gets 5 stars out of 5 - and then some. It is FANTASTIC. :-) It's a 92-page stick of dynamite which grabs you from the first page and keeps you turning. All elements of excellent storytelling are here, imo, especially balance, pacing and surprises.
Susan Leyton is a 23-year-old secretary who is also a shutterbug. She's in-between romances, again enjoying the single life, and decides one lazy and very snowy Saturday morning to drive beyond the town limits to photograph Blackhall.
Blackhall was owned by wealthy elitist Nathan Black in the late 1800's. He and his wife esconced themselves there, never bothering with "the peasantry" nearby. A solitary daughter was born to the Blacks, who went on to fame and fortune in Hollywood.
Susan is forced to recall this bit of history later -- after she's been conked in the head while focusing the camera preparing to take a couple of shots [she's hoping to enter and win an amateur photography contest with Blackhall as subject] and waking up in a strange room. LOCKED into the room, actually.
Her two known captors are a hostile older woman and a malicious dwarf. A hateful ragged voice booms menacingly through the corridors, thanks to a speaker/amplifier system. No electricity: Just row upon row and many clusters of candles, all of which give the ghastly mansion its continual eerie amber-twilight ambience.
Susan, of course, seeks escape. She has a friend in the enemy camp, who hides her until she can be safely released. But Susan wonders why her new-found friend can't simply stand up for her and order her release. She's left to her doubts and fears overnight, in the only room with electricity: The tower cupola. There she discovers a large splotch of what seems dried blood, dozens of framed photos of Cecily Sinclair [aka Margaret Black] in her Hollywood glory days, pieces of old furniture. Then a blizzard whips up, further delaying Susan's escape.
All the hostilities and furies of Blackhall ultimately culminate in the cupola.
Well crafted and super-enjoyable! I especially enjoyed all the wintry elements in the story, including aspects of blizzards I'd somewhat forgotten in the many years I've been away from Iowa.
The cast of characters as I visualized them:
Susan Leyton: Lauren Holly [age 23]
Richard Black: Don Briscoe [age 28]
Roxie: Ellen Corby [age 66]
Sidney: N/A
Cecily: N/A
Mickey: As described.
Trixie gives the story 1 Paw: No mention of cats or anything cat-like. Who's the species-ist, hmmmm?? ;-)