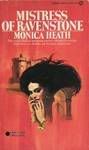 Usually I'm offline Mondays, but today's an exception; I finished this novel last evening [scan obtained from Barrymore -- *thanks*!] and I also accidentally left one of my treasured Belmont Double Gothics at a restaurant this a.m.! :-( That Belmont DG is "Amber Twilight" by Miriam Lynch & "Portrait of Terror" by Paula Minton [scan of this cover posted in November, IIRC]. Fortunately the restaurant owner and her waitress are honest; safekept the book for me and instantly returned it. Belmont DG's are rare and this one's in mint condition; NEVER again is it leaving the house. Can't believe I did that, but all's well that ends well. :-\
As for "Mistress of Ravenstone": I'm sorry to say it rates only 3 stars on a scale of 1 - 5. And I dislike being critical of others' published work. The story opens with Lorraine, who's recently moved to San Francisco after having had her heart broken by a former fiancee in her small California hometown. On a lonely day she decides to visit the Palace of Fine Arts and there meets Nicholas Laughlin, who is giving a tour. They strike up a whirlwind romance [despite his preoccupation with an alleged family curse], soon marry. Nick's nasty nit of a sister, Maggie, throws a party "in honor" of Nick and Lorraine, but it's evident she hates Lorraine. Enter Felicia, Nick's old flame -- an older woman who is deeply mystical and involved in the occult; and Radi, Felicia's personal "swami". Lorraine overhears Maggie telling Sandy [a friend] of all the terrible and premature deaths Nick's previous girlfriends have suffered; is it the lingering Laughlin curse? The Laughlins are Americans for generations, but the ancestral castle remains; it's reclaimed by Nick's parents and the ghost of a beheaded Laughlin wife centuries ago is said to have cursed the castle and family, and continues to haunt the castle.
Lorraine and Nick go on a brief hectic honeymoon. An anonymous letter arrives for Nick, who becomes aggitated by it. Lorraine discovers the letter; it's regarding the alleged family curse, warning the Laughlins away from Ireland. Nick ignores it; they arrive at the castle to inhabit and renovate it.
Into this mix comes Felicia, Maggie, Radi...and Breasel, a local colorful Irish character, young and handsome, who's said to have been "fairy struck" as an infant: An alleged changeling, a sickly one of the Faery Folk who now lives as a human.
I found a certain decision by Nick's parents unbelievable; if good and worthy in-laws, they wouldn't dream of subjecting Lorraine -- their son's new bride -- to such galling inconveniences. Elements in the story are repeated and repeated, as though for padding; as if the author couldn't come up with fresh material or think up interesting twists/turns. Most sadly, Lorraine and Nick -- despite being THE main characters -- are boring. Their personalities aren't fleshed out; I felt apathetic towards both. The only interesting characters are Felicia and Breasel. The author does have one character killed off; the wrong one, imo. And the ending seems so rushed.
Trixie gives it 2 Paws: "Cat-like" is mentioned.
Of course this is just a subjective opinion. Others might find the book entertaining. I was in a hurry to finish it; that's how unsatisfied I was.